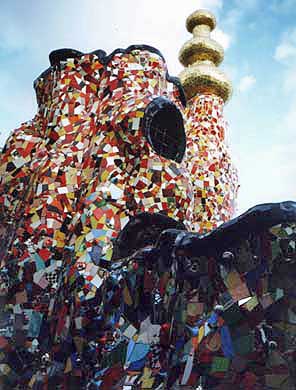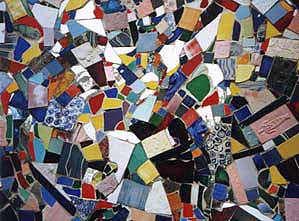 Perched on the ramparts is Juno's peacock. There are pictures of the inside of the courtyard on the next page.
The Emperor
In the tarot deck, the Emperor and Empress are presented in matching robes, both seated on their thrones, both with imperial regalia. In the Garden, however, they could hardly be more dissimilar. This symbol of masculine power, worldliness and the domination of the intellectual over the emotional, is centred around a courtyard. The walls are supported by columns, each with their own individualised decoration. You can climb stairs to walk the circuit of the walls, past the various structures which emerge from them. Organic towers arch over the walkway, mosaicked in reds and yellows and gold. Among them is a rocket ship, ready to launch on a scientific mission - or is it a missile, poised to destroy?
It's not hard to see the influence of Gaudì's sculptural architecture and Jujol's freeform mosaic trencadis (Niki de Saint Phalle visited Barcelona in 1955 and was awe-struck). As I looked around I couldn't help thinking that if I had made just one square metre of this I'd feel pleased with myself for a long time, yet here were acres and acres to be admired. Likewise I marveled at the precision of the tessellation and soaked up the enjoyment of the colours. It was only later I really was able to think about the deeper images represented here.