Les Jardins de la Feuilleraie - des mosaiques à profusion
The mosaic gardens of Happonvilliers, near Chartres, France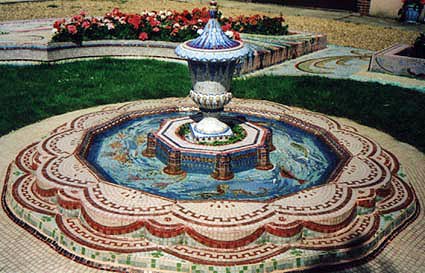 For the past 20 years, a French lady named Hurfane has been creating a vast mosaic landscape deep in the rolling countryside of the French region of Perche d'Eure et Loir. Her work falls into two main gardens. The pink garden is what you see as you come in through the gates. It is set within a courtyard, centred on a shallow pool. The terraces and low borders are covered in mosaic tiles, mostly pinks, with a range of other bright colours, forming geometric patterns, swirling designs and pictorial motifs (peacocks, squirrels, genets, fish, butterflies, and so on). The courtyard walls have large pictorial mosaic panels showing rural scenes.
To my mind, it is the blue garden which takes the biscuit for sheer scale and imaginative freedom. This is an expansive curving terrace, dotted with planted islands and borders. The visual effect, portraying moving water and waves, is breathtaking. Other features of the blue garden include a sundial, a fish pond and floor motifs (a compass rose, animals and plants).
The gardens are near the village of Happonvilliers, about 30 km (20 miles) southwest of Chartres. (Chartres is about 80 km (50 miles) southwest of Paris.) The nearest town with a railway station is Illiers-Combray, but there is no public transport to the gardens. Happonvilliers is about 11 km (7 miles) northwest of Illiers-Combray. The gardens are signposted at Happonvilliers, and are 4 km (2 miles) up a road at the western end of the village. They are open during summer, in the afternoons of Saturdays, Sundays and Tuesdays, and possibly by appointment. It would be a good idea to check with local tourist information offices.
other mosaics in the Chartres area