The black (or dark) courtyard, between the chapel and summerhouse, is a breathtaking space. The main focus, facing you as you enter, is a raised tomb. On top of this is a model of Chartres Cathedral, the detail of its Gothic splendour painstakingly etched into cement. Behind the tomb is a wall with another view of the cathedral perched on the top, a combination of sculpture and mosaic. Spread out below it is the town of Chartres with hundreds of individual houses and their red roof tops. Below this are pictures of more cathedrals and other places of worship, copied from postcards. The detail, produced with tiny fragments of china, is wonderful. The background is mainly black or dark glass, and the entire floor of the courtyard is covered in mosaic patterns.
| | |
| --- | --- |
| | |
Facing this scene, Raymond Isidore built a concrete chair, in which he could sit at the end of the day, and gaze on his city he had built. At the time of building this courtyard (the mid 1950s) he was working as the caretaker for the city cemetery, on the hillside near his house. There he would have been surrounded by reminders of how short life is, but also he would have looked across to the cathedral, 800 years old. On visits to the cathedral it is impossible not to be awestruck by the craftsmanship and beauty of its stained glass. "Picassiette" had his own reasons for doing what he did, but perhaps the awareness that he was creating something of great beauty which would outlast him was a guiding force.
After a fire in 1194, Chartres cathedral was rapidly rebuilt by teams of 300 workmen, over the course of 30 years. It took the same length of time for Isidore to create his own monument. Even so, he would have known that buildings too do not have a guaranteed future. One of the features of Chartres which he had painted and sculpted at his house was Guillaume's Door, an entrance to the old town. The actual ancient gateway was destroyed by the occupying German army in August 1944.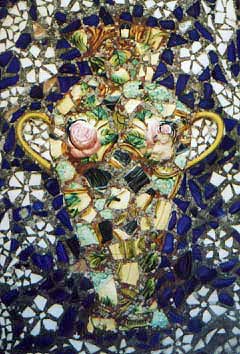 Beside the chair is a small well, above which are an ambiguous urn or face, and an alarming moustached face surrounded by found objects.
To the other side of the chair, on the south facing wall, is a large tableau, possibly of images from dreams. They include, again, a woman, a shepherd and a dog, but also this strange floating head.