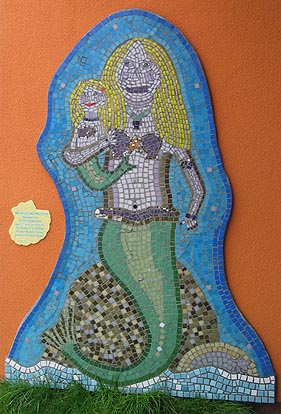 In 2004 I undertook a mosaic mermaid project for a local SureStart preschool centre in Norwich, working with children from a nearby Middle School. It was a learning experience for me, and I hope this detailed step-by-step will help you learn more about making mosaics, too.
The project brief had a number of special requirements. The mosaic was for a garden with a seashore theme (so all the materials would need to be weatherproof); the mosaic needed to be removable, in case the garden theme changed; the design was to be chosen from a competition among middle school pupils; the construction of the mosaic would involve a one-day workshop with the children who entered the competition.
I decided to make the mosaic from vitreous glass tiles on a board of exterior grade plywood, with adhesive and grout suitable for outdoor use. Some ceramic swimming pool tiles (for the sea) and mirror glass were also used. The mosaic would be made by the reverse (or indirect) technique. This method would allow the children to work in groups on different sections of the figure.
This walk-through of the project contains pages on the different stages of turning the design into a finished mural.